50% off sale! Team Celery Juice MEN'S Standard T-shirt
$

25.00 On Sale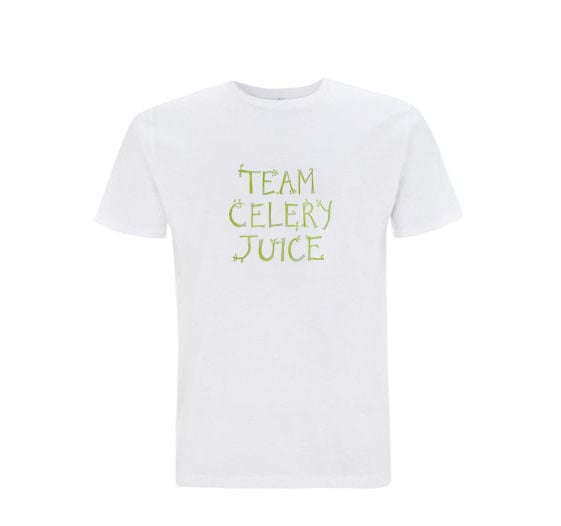 ✨ALL PRICES ARE IN AUSTRALIAN DOLLARS $AUD✨
📮WORLDWIDE SHIPPING📮
♻️100% ORGANIC COTTON + NON-TOXIC WATER BASED 🐷VEGAN🐷 INKS♻️
Men's Standard T-shirt
100% Organic Cotton
Water-based non toxic inks (no PVC, phthalates, lead, heavy metals, CFCs, HCFCs, aromatic hydrocarbons or volatile solvents)
Sizes M and L available
*** ONLY 1 SIZE M LEFT!***
Organic and non-toxic clothing is imperative to our health and the health of the Earth ~ choose your clothes wisely 🙏🏻
PLEASE READ BEFORE PURCHASE:
❤️🌱🧡🌱💛🌱💚🌱💙🌱💜🌱💗
True to size👍🏻
For girls these T-shirts can be a great option for sleep shirt or workout shirt; super soft and comfy.
I kept a size L for myself for pj's. It goes to mid thigh, like a nightie. Perfect for when my TCJ singlet isn't warm enough.
(see Team Celery Juice tab at top of page for more photos)
🥝 note: photo of model wearing T-shirt shows what a size M-L looks like on
🤗Care instructions:
~ cold wash
~ line dry inside-out for best colour retention/protection
~ avoid heat/iron directly on logo (can iron back of logo)
~ wash with similar colours/whites
📦Shipping:
* for 1 t-shirt/tank top in an order, postage will be flat rate detailed ($5AUD Australia, $7 NZ and $13AUD everywhere else; for any orders over 2-3 shirts/tanks price will increase (calculated on checkout) - depends on weight and size of shirt - larger sizes will require higher price shipping)
~ all shipping prices listed are standard post WITHOUT tracking
~ please let me know if you want tracked shipping before purchasing; this will increase the price
~ if your destination is not an option, please let me know
(DM me at @rosegoldspoonies on instagram)
~ have any troubles, DM me on instagram @rosegoldspoonies
🍎Please put your INSTAGRAM handle as order reference!
MADE WITH LOVE 💖 FOR YOU
Katie
Share